London Group Inv. extensively discusses "cutting edge technology" on their website. However, as of now, we are not aware of any groundbreaking developments in the Forex and CFD industry that would justify such claims. This naturally raises skepticism about whether this broker is genuinely innovative or if it is a scam simply using flashy words to attract clients. Throughout the course of this review, we will delve into their offerings to better understand what is happening here.
London Group Inv. General Information
Website
https://londongroupinv.com/
Phone Number

+442081502232
+61364690609
+13439457279
+61489945682

Email
support@londongroupinv.com
Address
UK
License
—
Minimum Deposit
$250
Assets
CFDs
Leverage
1:400
Trading Platform
WebTrader
Registration and Client Portal Review
The official website of London Group Inv. does, in fact, have an appealing design. Notably, it features an image of a bridge over the River Thames, leaving no doubt about the broker's connection to the UK, in case the name hadn't hinted at it already.
However, delving deeper into the website, we observed that the broker has omitted many important details. This is concerning because transparency and the disclosure of information are crucial in the financial industry. To form any sort of conclusion about London Group Inv., we had to scrutinize numerous documents.
London Group Inv. provides a registration process that appears to be quite simple and straightforward. To create an account, you're only required to provide some basic information such as your first and last name, email address, and phone number. Notably, what sets London Group Inv. apart is its lack of a verification procedure during the registration phase. Unlike many other reputable brokers that often require identity verification to enhance security, London Group Inv. skips this step entirely. This means there are no verification codes sent to your email or mobile for confirmation.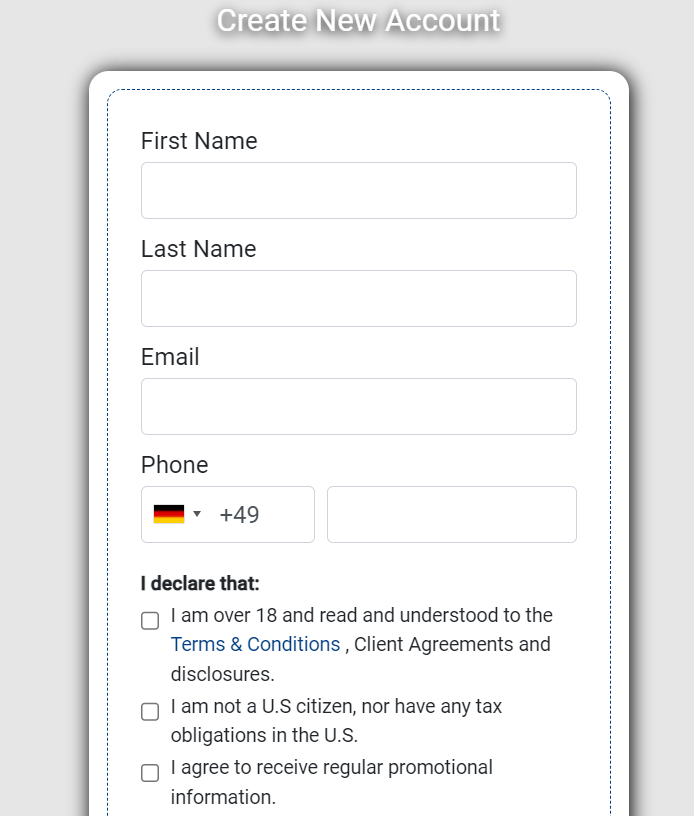 The Client Portal of London Group Inv. is, unfortunately, quite underwhelming. It seems to offer the most basic and standard functionalities with nothing particularly innovative or unique. The design and user interface are lackluster and do not provide an engaging or efficient trading experience.
Additionally, the absence of a demo account option for traders to practice and test strategies is a notable drawback.
London Group Inv. Trading Conditions
Let's take a closer look at what London Group Inv. offers for traders. Perhaps, in doing so, we will finally understand what kind of "cutting edge technology" they claim to provide.
Account Types Review
So, our protagonist in this review has a total of five accounts, each with its unique name:
Self-Managed. To get started, you'll need to deposit $250. With this account, you can trade over 200 assets and enjoy a leverage of 1:100.
Select.Here, a higher deposit of $10,000 is required. Wondering why there's such a gap between neighboring plans? Well, with the Select account, traders are promised various benefits, including a dedicated senior account manager, bonus funds, flexible leverage up to 1:200, spreads from 1.5 pips; tier-3 trade room analysis, financial planning, risk management planning, special venture promotions, monthly webinars, and a level-3 prioritized withdrawal process.
Personal. This account offers almost all the same features as the previous one, but with even higher leverage, narrower spreads, and a tier-2 withdrawal level.
Honors. To qualify for the Honors account, you'll need to deposit $250,000. In return, you'll receive a $5,000 gift and enjoy even higher leverage.
Wealth Management. The Wealth Management account is tailored specifically for you.
In summary, these offerings are somewhat underwhelming. Essentially, the more money you bring in, the more you get in return. Nothing particularly groundbreaking here.
Trading Platform
The trading platform leaves much to be desired. It offers minimal features and fails to stand out in any significant way. One of the most glaring shortcomings is the absence of a demo account. For traders looking to test the platform or develop their skills without risking real money, this is a major drawback. The platform's overall functionality is rather lackluster, and it lacks the advanced tools and features that many other trading platforms offer. London Group Inv. does little to differentiate itself in a crowded market and fails to provide traders with a compelling reason to choose it over more feature-rich alternatives.
London Group Inv. — Deposit and Withdrawal of Funds
London Group Inv. exclusively accepts cryptocurrency deposits, limiting your options to Bitcoin, Ethereum, or USDT. This restriction can have several drawbacks. By accepting only cryptocurrencies, London Group Inv. excludes traders who prefer to fund their accounts using traditional fiat currencies. Besides, cryptocurrencies are known for their price volatility. Depositing in cryptocurrencies exposes you to potential fluctuations in value before you even begin trading. A deposit made in Bitcoin, for example, could lose or gain significant value between the time of deposit and actual trading.
Using cryptocurrencies can provide a level of anonymity that may not be ideal for traders seeking transparency and regulatory oversight.
Verification
Despite London Group Inv. accepting deposits in anonymous cryptocurrencies, the broker still requires users to undergo a verification process. This process typically involves providing various documents and personal information to confirm the trader's identity and adhere to regulatory requirements. Specific documents and details required for verification may include:
Personal identification documents, such as a passport or driver's license.
Proof of address, like a utility bill or bank statement.
Once users submit these documents and information, London Group Inv. compliance team reviews and verifies them.
Additional Options
Among the broker's additional options, there are indeed many services available, but they are primarily accessible only in the higher-tier account types. The practice can be considered unfavorable for several reasons.
Firstly, it can lead to an exclusionary environment, where traders with smaller accounts miss out on potentially valuable services and features. This inequality can create frustration among traders and discourage newcomers.
Secondly, these additional services, often limited to higher-tier accounts, may not always provide the anticipated value. London Group Inv. uses these services primarily for marketing purposes, making them appear more appealing than they actually are.
Is London Group Inv. a Scam?
The company doesn't stand out in terms of trading conditions. Let's explore what else it can offer traders in terms of legitimacy.
Legal Information and License
London Group Inv. implies that it operates in the United Kingdom. However, we have serious doubts about this claim. We checked the registry of this country in search of such a broker and found that there is indeed a company named London Group Investments. However, this firm has no connection whatsoever to the subject of our review. It is engaged in the real estate sector and has no relation to brokerage or investment services.
Considering that this broker only accepts deposits in cryptocurrencies and actively seeks anonymity, it is highly unlikely that they have any registration as a legal entity or possess any kind of license. Please note that the terms and conditions on this platform are not provided. Instead, a blank template page loads.
Londongroupinv.com Domain Info
Furthermore, we investigated the company's domain, and unfortunately, there was nothing reassuring there either. It turns out this London Group Inv. has only recently launched its operations. The Whois service revealed that the website was initiated in May 2023. This is indeed the actual time frame of the company's existence.
Contacts Review
London Group Inv. provides quite comprehensive contact information. In addition to the English phone number, there are several others, such as Australian, Canadian, and more. You can also reach out to their support team via email. However, it's worth noting that London Group Inv. does not provide a physical address. This isn't surprising considering our previous findings that suggest this broker might not be genuine.
Pros and Cons
Multiple account types to choose from.
Quick and simple registration process with minimal data required.
Lack of proper registration and regulatory oversight.
Limited deposit options, only accepting cryptocurrencies.
Verification required despite accepting anonymous cryptocurrencies.
Additional services and features are primarily available for higher-tier accounts.
Notable issues with the trading platform's stability and functionality.
No demo account available for practice.
Doubts regarding the legitimacy of the broker's claims about its location.
Recent domain registration suggests a short operating history.
Frequently Asked Questions (FAQ)
What Does London Group Inv. Offer?
London Group Inv. offers trading services in various financial instruments, primarily focusing on CFDs.
How Much Money Should I Invest With London Group Inv.?
The minimum deposit, according to its trading conditions, is $250.
Is London Group Inv. Safe?
No, London Group Inv. does not appear to be a safe broker. The absence of proper registration, regulatory oversight, and transparency regarding their operations raise significant concerns about the safety and legitimacy of this broker.