LumineTrade offers you to take control of your financial success. According to their plan, this broker is the one who will help you with that. However, we have some suspicions that it might be a scam. The only thing it seems capable of helping you with is parting ways with your money. To find out where this puzzle leads us, read on in the review.
LumineTrade General Information
| | |
| --- | --- |
| Website | https://www.luminetrade.com/ |
| Phone Number | +442034359251 |
| Email | support@luminetrade.com |
| Address | Dashwood, 69 Old Broad Street, London, EC2M |
| License | — |
| Minimum Deposit | $250 |
| Assets | CFDs |
| Leverage | 1:10-1:200 |
| Trading Platform | WebTrader |
Registration and Client Portal Review
The official LumineTrade website left us with virtually no impression. It features a peculiar template design with stock images, dark unattractive colors, an abundance of self-promotion, and other unnecessary content. Information about the company is, as always, scarce. We don't quite understand the trend here. However, there are at least some contact details available. The reviews left by what seem to be real clients look very strange, though. Of course, we know better than to trust such things.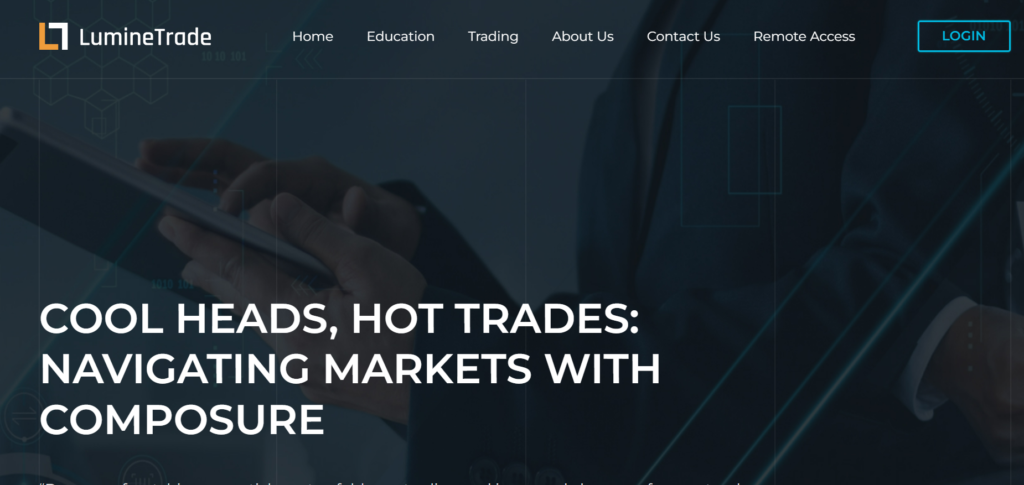 The registration process on the LumineTrade platform has left us quite perplexed due to its unconventional approach. Unlike most financial platforms that offer a clear and straightforward registration, LumineTrade's website seems to skip this step entirely. Instead, it prominently features only authorisation, making it initially challenging for new users to figure out how to create an account.
LumineTrade Trading Conditions
We are willing to review the broker's trading conditions further. Perhaps, we might discover something beneficial and interesting for potential clients.
Account Types Review
LumineTrade offers four account types, each with varying minimum deposit requirements and associated services.
The initial account option starts at a minimum deposit of $250 and includes features such as up to 1:10 leverage, daily news, access to a trading academy, weekly market reviews, an assigned account manager, and weekly portfolio progress reports.
The second account type mandates an astounding $25,000 deposit. This vast difference raises eyebrows. "Gold" account holders gain privileges like leverage up to 1:50, daily portfolio progress reports, access to a portfolio manager, weekly live streams, 1-on-1 market analyst sessions, monthly sessions with a certified accountant, etc.
The third and fourth LumineTrade accounts demand exorbitant deposits. Surprisingly, these accounts seem to offer nearly identical features, with the primary distinction being higher leverage.
This leaves the broker's approach to client engagement rather perplexing. How does LumineTrade intend to unlock a trader's full potential when the initial account provides minimal options, and the subsequent account types necessitate huge deposits?
Trading Platform
The trading platform provided by LumineTrade doesn't exactly inspire enthusiasm. Firstly, there's the layout of the screen space, which immediately stands out. While it may seem standard, it comes with certain limitations. You can't freely adjust the sizes of various sections to tailor the interface to your liking. However, this isn't the most significant concern with LumineTrade's software. There are more pressing issues, including an inconvenient asset selection process in the market overview, the inability to save individual window configurations with price charts, a limited set of tools for graphical market analysis, and the inability to create or connect custom technical indicators and trading robots.
LumineTrade — Deposit and Withdrawal of Funds
The process of making a deposit with LumineTrade remains a mystery. Nowhere on the website is this information clearly stated. However, they do have a withdrawal policy, indicating that withdrawals will be processed within five days. However, once again, the method for depositing funds is not mentioned. It's crucial for a reputable trading platform to provide straightforward guidance on both deposits and withdrawals to ensure a smooth and trustworthy user experience.
Verification
In the withdrawal policy, it's stated that only verified users can withdraw funds. This implies that verification on the platform is indeed necessary. The verification process is fairly standard and involves providing some personal information and identity documents for authentication.
To initiate the verification process, users typically need to follow the instructions provided to submit the required documents, which often include proof of identity (such as a passport or driver's license) and proof of residence (like a utility bill or bank statement).
Once the documents are submitted, the LumineTrade team will review and verify them, usually within a specified time frame.
Additional Options
LumineTrade offers a variety of additional services, some of which we haven't covered in detail. However, there are certain aspects that raise questions. For instance, they mention assistance with taxes. It's unclear which country's tax authorities or tax regulations this broker is referring to when providing tax help.
Furthermore, their claim of providing market analysis services raises curiosity. Who exactly are these analysts and experts who will be delivering trading signals and market forecasts? The lack of transparency regarding the qualifications and identities of these individuals is a noteworthy concern. Clients should have access to information about the expertise and credentials of those providing financial guidance, and this information should be readily available on the platform for full transparency and trust.
Is LumineTrade a Scam?
As of now, LumineTrade gives the impression of being a typical scam. We don't believe we're mistaken in this assessment. Let's take a closer look.
Legal Information and License
LumineTrade's provided contact information lists a legal address based in the United Kingdom. However, when we scrutinized their user agreement, we noticed an absence of any specific jurisdiction mentioned. Naturally, this led us to perform a thorough verification of the company's credentials in the UK's business registry.
To our astonishment, our search yielded no results matching the name "LumineTrade" in the registry. This revelation raises significant concerns because if the company wasn't officially registered, it couldn't possibly have obtained the necessary licenses to operate as a legitimate financial institution.
Furthermore, our skepticism deepened upon examining LumineTrade's offered leverage of up to 1:200. Reputable financial regulators strictly forbid such exorbitant leverage ratios for retail clients due to their inherent risks.
Luminetrade.com Domain Info
We have strong reasons to believe that LumineTrade is a newcomer in the industry. The complete absence of any reviews or mentions of the broker until the summer of 2023 further supports this assertion. Our theory gained more credence when we conducted a straightforward domain check, revealing that LumineTrade's website was only established on July 18, 2023.
Contacts Review
LumineTrade provides three phone numbers, email addresses, and even mentions having an office as part of their contact details. However, considering LumineTrade is not officially registered as a legal entity, it becomes evident that these address details are likely fake.
More Details
LumineTrade offers software for remote access, specifically AnyDesk and TeamViewer. However, it's essential to highlight that installing such software on your computer can be risky. These tools are frequently exploited by scammers for unauthorized access to users' systems, potentially leading to security breaches and financial loss. It's generally not recommended to install remote access software unless you have a secure reason to do so.
Pros and Cons
Variety of account types.
Lack of registration and regulation.
Unclear deposit process.
Insufficient trading information.
Dubious additional services.
New and unproven broker.
Risky remote access software.
Frequently Asked Questions (FAQ)
What Does LumineTrade Offer?
The broker claims to offer a range of trading services and features, including access to various financial markets, educational resources, and personalized account management.
How Much Money Should I Invest With LumineTrade?
It sets a minimum deposit requirement of $250, according to their trading conditions.
Is LumineTrade Safe?
No, LumineTrade does not appear to be a safe or reliable broker. Our investigation has uncovered numerous red flags and inconsistencies, suggesting that it may be a typical scam operation.