Nelson Financial Solutions Limited may seem like a successful player in the financial markets. However, are they really what they appear to be? We decided to dig deeper and investigate this broker, and what we found is concerning. Despite some positive reviews, we have reason to believe that this company may be running a scam. We'll go over the evidence we've gathered and explain why we think you should be cautious before investing your money with them.
Nelson Financial Solutions Limited General Information
| | |
| --- | --- |
| Website | https://www.nelsonfinsolutions.com/ |
| Phone Number | +442086383770 |
| Email | support@nelsonfinsolutions.net |
| Address | 122 Leadenhall St, London EC3V 4AB, United Kingdom |
| License | — |
| Minimum Deposit | £100 |
| Assets | CFDs |
| Leverage | Up to 1:100 |
| Trading Platform | WebTrader |
Registration and Client Portal Review
Nelson Financial Solutions Limited starts its introduction with a bold statement: "If you want to have what you never had, you need to do what you never did." The website even features a strange animation of a golfer, which we're not quite sure why they decided to include. However, what follows are impressive statistics that any broker would be envious of. Unfortunately, that seems to be the only interesting thing on this platform. Everything else feels bland and unremarkable.
It should also be added that one point remained unclear to us. Why is there a translation only into English and Russian on the broker's website?
It was a breeze to sign up on Nelson Financial Solutions Limited's website. The process took us a mere two minutes. However, we were left with the impression that the broker does not place much emphasis on security. All that was required was a small form with basic contact details, and we were immediately granted access to the Client Portal.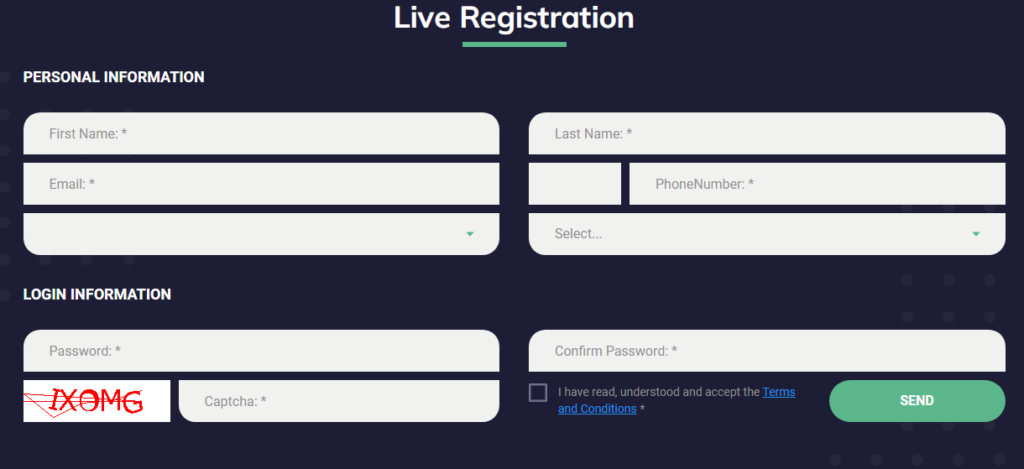 Upon logging in, the Portal appeared to be quite simplistic, with standard features that we would expect to find on a broker's website. It allowed us to easily deposit funds, request withdrawals, and view our financial transactions. Additionally, there were functions available for editing account settings and uploading documents. Overall, the experience was rather underwhelming and lacked any standout features or benefits.
Nelson Financial Solutions Limited Trading Conditions
Nelson Finance Solutions Limited is a CFD and Forex broker that claims to offer great trading conditions. However, we strongly disagree with this statement.
Account Types Review
When it comes to account types, the broker offers four options, with a low minimum deposit of only 100 pounds. However, if you opt for the Beginner account, you will have limited access to trading instruments and high commissions, making trading almost impossible.
To access more trading instruments, you will need to deposit a whopping 10,000 pounds for «basic assets», which the broker does not specify. To gain full access to all trading instruments, you must open a Business account and fund it with at least 50,000 dollars. This account type comes with a range of near-market services, including trading signals and bonuses, which reputable regulators prohibit. It seems to us that Nelson Financial Solutions Limited prioritizes profit over providing a fair and secure trading environment.
Trading Platform
The trading platform provided by Nelson Financial Solutions Limited is just a typical web trader, which is quite frustrating. We have seen this platform used by many other brokers, and we cannot agree with their claims that it is the best software available. In reality, it has very basic features and limited functionality. Furthermore, it seems that the broker did not invest in the desktop version, which is disappointing.
Nelson Financial Solutions Limited — Deposit and Withdrawal of Funds
Nelson Financial Solutions Limited has several deposit options, allowing Visa/MasterCard and bank transfers. The process of funding the account is not as straightforward as with other brokers. After specifying the deposit amount, a manager will contact you, and it is unclear why this additional step is required. It appears that the broker wants to have a conversation with you before you fund your account. This may lead to the consultants pressuring you to deposit a larger amount. We attempted to fund our account, but were unsuccessful. The entire process seemed dubious and questionable.
Verification
Nelson Financial Solutions Limited requires a significant amount of documentation from its clients. In the beginning, you may only need to provide proof of identity and residence, which can be uploaded as color copies through your personal account. However, for each withdrawal, you will be required to complete the Declaration of Deposit form. Additionally, there is a separate application form for bank transfers that must be printed, filled out, scanned, and uploaded back to the Client Portal.
Additional Options
Nelson Financial Solutions Limited provides additional services such as trade signals and analyst reports. However, these are only fully available in premium account types, which come at a high cost. The account bonuses are also not as good as they may seem. You will have to work hard to earn them and any profits gained from bonuses can be removed from your account.
Is Nelson Financial Solutions Limited a Scam?
If the unsightly trading conditions have not convinced you yet, pay attention to a couple of important points.
Legal Information and License
The broker asserts that its management firm is registered in England, with registration number 08996356. After conducting research using this registration information, we discovered that a company called Nelson Financial Solutions Limited was incorporated in 2014 in the UK. However, its registered activity is classified as "financial intermediation, not classified elsewhere", which does not appear to be related to brokerage services.
The company has only one director, Mitchelson John, and it is important to remember his name. Our search for the truth led us to the FCA register, as all brokers must be authorized there. However, Nelson Financial Solutions Limited was not found in it. This means that the company is operating illegally without a license. Meanwhile, in reality, everything is even more prosaic. The subject of our review is simply pretending to be a real firm. While checking the financial data of Nelson Financial Solutions Limited, we came across some interesting information. Among the company's contact details on one of the financial data aggregators, its official website is listed.
Do you know what it's called? Joeknowsmoney.com. Well, for us, it's not surprising, considering that the director of the original Nelson Financial Solutions Limited is named John.
Nelsonfinsolutions.com Domain Info
There is another factor that convinces us that Nelson Financial Solutions Limited is a fraudulent company. And that is its length of operation. According to Companies House, the firm was registered back in 2014. However, we couldn't find any reviews or feedback about the broker until 2023. Moreover, our domain check revealed that the website was only registered on March 27, 2023, which means that the project is only a few weeks old. It seems highly unlikely that a broker that just launched will survive for at least a year.
Contacts Review
Nelson Financial Solutions Limited offers a phone number, email, and address as contact options. However, the address provided is different from the one listed on the original company's profile. We have no doubts that it's a fake.
More Details
In fact, Nelson Financial Solutions Limited is the most shameless and dangerous scam. This is a whole fraudulent chain. The same creators are behind works such as Mysteel UK Limited, which we recently wrote about; Palmer Finance Company, CED Capital Limited, and many others. So be careful.
Pros and Cons
Fake legend
No official registration
The trading platform is unreliable
No license
Short lifespan.
Frequently Asked Questions (FAQ)
What Does Nelson Financial Solutions Limited Offer?
Nelson Financial Solutions Limited provides CFD trading on various popular assets along with a range of consulting services.
How Much Money Should I Invest With Nelson Financial Solutions Limited?
Nelson Financial Solutions Limited has a minimum deposit requirement of just 100 pounds.
Is Nelson Financial Solutions Limited Safe?
No, Nelson Financial Solutions Limited is not a safe or legitimate company. It is a fake entity that is using the identity of a real firm. And it is not authorized or regulated by any governing bodies.