StockHome presents itself as a platform that offers unlimited trading power, but it's essential for us to delve deeper into this claim and assess its validity. We understand that such grandiose statements can sometimes be associated with scams, so our primary goal is to conduct a thorough investigation and gather insights from actual clients. By analyzing their feedback and experiences, we aim to provide an accurate and comprehensive assessment of the broker's credibility and the level of satisfaction among its user base.
StockHome General Information
| | |
| --- | --- |
| Website | https://www.stockhome.io/ |
| Phone Number | +44 1618180393 |
| Email | support@stockhome.io |
| Address | Stoney Ground, Kingstown, St. Vincent and The Grenadines. |
| License | — |
| Minimum Deposit | $250 |
| Assets | CFDs |
| Leverage | Up to 1:300 |
| Trading Platform | WebTrader |
Registration and Client Portal Review
StockHome's official website appears to follow a conventional and unremarkable template, lacking any unique or captivating design elements. The familiar dark background, stock images of charts, and photos of successful traders are prominently displayed.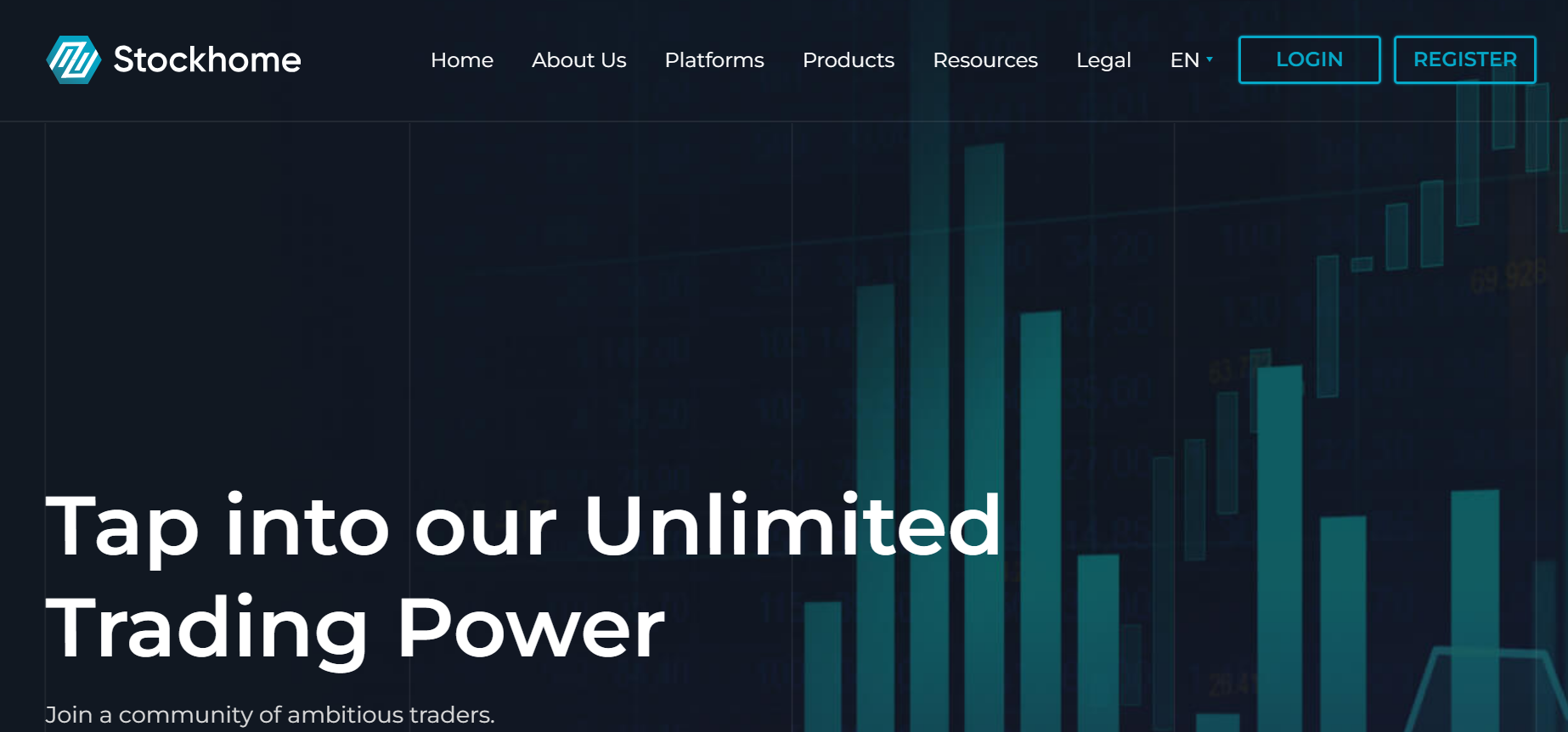 The registration process on the platform is relatively straightforward and can be completed within 1-2 minutes. However, it is important to note that it may not be as simple as it initially seems. While users are only required to provide basic personal information, such as their name, email, and phone number, StockHome imposes a mandatory promo code during registration. Unfortunately, the broker does not provide clear instructions on where clients can obtain a promo code or how to acquire one. This lack of transparency and guidance can be frustrating for prospective clients, as it creates confusion and prevents them from completing the registration process.
StockHome Trading Conditions
StockHome offers a range of account types, and upon closer examination, we found some discrepancies and a lack of clarity in their descriptions.
Account Types Review
The first account type, which is supposedly designed for beginners, caught our attention. According to the broker's information, to open this account, a minimum deposit of $5,000 is required. However, in another section of the website, the broker states that traders can start with a minimum of $250. This conflicting information raises questions about the accuracy and consistency of the broker's statements.
Furthermore, the leverage options offered by StockHome vary depending on the account type. The leverage ratios range from 1:100 to 1:400, except for the Islamic account, which claims to provide a 1:1 leverage ratio. Interestingly, in another section of the website, the company mentions that the leverage on their platform can go up to 1:300. And again, these contradictory statements add to the confusion and suggest a lack of attention to detail and coherence in conveying accurate trading conditions.
In terms of spreads, StockHome does not clearly specify whether they are fixed or floating, leaving traders unsure about the cost of executing trades on their platform. Additionally, we found a lack of information regarding any additional services or features that the broker may offer.
Trading Platform
The StockHome trading terminal is a web-based platform that may not meet the expectations of traders, especially those with more experience in the industry. While it does offer a straightforward interface and includes essential indicators, it lacks the advanced features and functionalities that are typically expected by seasoned traders. The simplicity of the interface can be seen as an advantage for beginners or those who prefer a minimalist approach to trading.
One area of concern is the compatibility of the web-based terminal with trading robots and expert advisors. The information provided by StockHome does not offer clarity on whether these automated trading tools can be effectively utilized within the platform.
It is also worth noting that the web trader is not an original creation of the company but rather a purchased terminal. While this may not necessarily imply any negative consequences, it raises questions about the level of customization and control that StockHome has over the platform.
StockHome — Deposit and Withdrawal of Funds
When it comes to depositing funds into your StockHome trading account, the options presented on their website may appear impressive at first glance. They claim to accept bank card payments, wire transfers, and the CashU system. However, upon inspection of trader reviews, you'll find that the actual options available in the personal account are quite limited. In fact, the only option provided is to make a Bitcoin deposit.
What raises further concerns is the lack of transparency regarding any potential commissions or fees associated with these deposit methods. StockHome fails to provide clear information about any charges that may be incurred during the deposit process, leaving traders in the dark about the potential costs they may face.
Verification
Since we are unable to register on the website, we cannot provide specific details about the verification process at StockHome. However, based on industry standards, it can be assumed that the verification procedure follows a common protocol.
The verification process typically requires traders to provide a valid identification card, such as a passport or national ID, to verify their identity. Additionally, a recent bank statement or utility bill may be required to verify the trader's residential address. These documents can be easily scanned or photographed and uploaded directly to the Client Portal for review.
In certain cases, when initiating a withdrawal request, traders may be required to complete a Declaration of Deposit (DOD) form. This form serves as an additional security measure and helps ensure the legitimacy of the withdrawal request.
Additional Options
During the registration process, the presence of a promo code suggests potential involvement in their partner program. However, the specific details and conditions of this program are not openly disclosed on the broker's website. This lack of transparency leaves potential traders uncertain about the benefits and requirements associated with the partner program.
Furthermore, StockHome has a bonus policy in place, indicating that certain clients may be eligible to receive bonuses. However, the exact amount of bonuses and the conditions for obtaining them are not clearly specified in the account descriptions or on the website. This ambiguity regarding bonus offerings leaves traders unaware of the potential rewards they can expect and the criteria they need to meet to qualify for such bonuses.
Is StockHome a Scam?
StockHome seems to be quite reserved when it comes to providing information about its background and history. Instead, the broker focuses primarily on promoting its supposed advantages and emphasizing the comfort and safety of trading on its platform.
Legal Information and License
In the footer of the website, it states that the management company was established in 2020. However, our investigation suggests that StockHome was actually created in 2021. Interestingly, the user agreement does not provide a specific address for the company's registration. Nevertheless, we attempted to verify the company using its name.
We searched the registry of Saint Vincent and the Grenadines, known as SVGFSA, and were unable to find any mention of Plexecom LLC, the purported management company of StockHome. Additionally, our search for the registration number yielded no results. We also consulted other data aggregators, including OpenCorporates, but found no records of such a company. These findings led us to conclude that StockHome lacks proper legal registration and licenses.
Stockhome.io Domain Info
According to domain registry records, the website was created on May 3, 2021, suggesting that the broker is relatively new to the market. This aligns with the observations made from customer reviews, which indicate that clients began sharing their experiences and opinions about StockHome starting in 2021.
Contacts Review
The broker does provide contact information such as a phone number and email address, which serve as the primary means of communication. It is important to note that visiting the broker's physical office is unlikely, as many companies are registered in Kingstown. In reality, these companies often operate remotely and do not have their headquarters at the registered address.
Pros and Cons
Limited Information.
Questionable payment methods.
Unreliable trading platform.
Lack of regulation.
Negative reviews.
Frequently Asked Questions (FAQ)
What Does StockHome Offer?
It offers online trading services in various financial instruments, including forex and CFDs on stocks, commodities, and cryptocurrencies.
How Much Money Should I Invest With StockHome?
The minimum deposit amount required to start trading varies according to the trading conditions and account types and starts at $250.
Is StockHome Safe?
No, it is not because the broker operates without proper regulatory oversight.