The broker CauvoCapital presents traders with quite advantageous offers. However, we wouldn't rush to accept them. It's essential to check first whether this is a scam. This is precisely what we will do in our review.
CauvoCapital General Information
| | |
| --- | --- |
| Website | https://cauvocapital.com/ |
| Phone Number | +18009821027 |
| Email | info@cauvocapital.com |
| Address | The Core, 62 Ebene Cybercity, 72201, Mauritius |
| License | FSC |
| Minimum Deposit | $500 |
| Assets | CFDs |
| Leverage | 1:400 |
| Trading Platform | MT4 |
Registration and Client Portal Review
The CauvoCapital portal appears to strike a rather unusual balance between simplicity and clutter. The company has managed to combine a basic and unassuming design with a plethora of unnecessary inserts and images. Unfortunately, this approach has had a noticeable impact on the quality of useful content. We observed various promotional elements and encouragements to start trading promptly, which left us desiring more comprehensive information about the company from the get-go.
The registration process with this broker initially appears straightforward. The form is user-friendly and easy to complete. However, there is a significant drawback – even if you complete the form correctly, you won't be able to register smoothly. Instead, you'll encounter an error message, leaving you with no other option but to contact their support team for assistance. This unnecessary complication raises concerns about the broker's transparency and efficiency in providing essential services.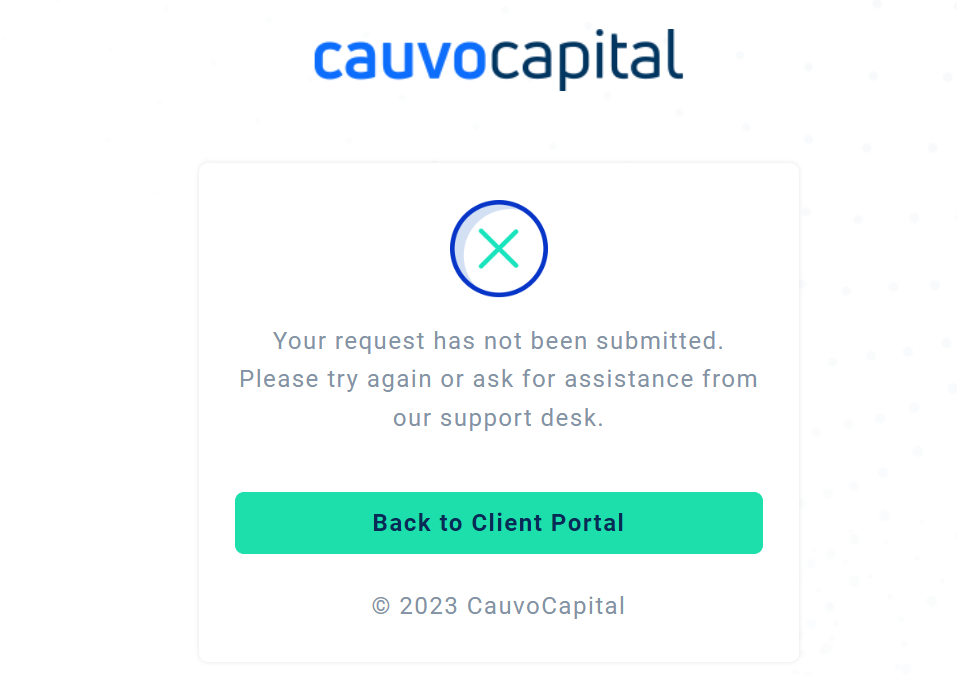 CauvoCapital Trading Conditions
Cauvo Capital offers a total of 8 different account types, which might initially seem like a luxury for traders. However, upon closer examination, it becomes evident that it's merely an attempt to create the illusion of diversity.
Account Types Review
By default, all accounts come with basic features like one-click trading, no additional fees, and free training. Here's a closer look at the offered account types:
Beginner. The minimum deposit is $500. However, services are limited, with only basic market access provided.
Basic. A recommended deposit of $5,000. Here, you get slightly more privileges, but the list of services is still restricted.
Trader. A deposit of at least $20,000 is required. At this stage, market updates and some additional trading features come into play.
Premium. You'll need to deposit $50,000 to gain access to personal push notifications and exclusive market news.
Premium Pro. This account demands a $100,000 deposit. In addition to basic services, you get a personal manager and daily market analysis.
Investor. The minimum deposit is a hefty $250,000. They promise full market access, specialized support, and personal notifications.
Expert and VIP. The minimum investments are astronomically high, at $1 million. There's no detailed information about these account types on the website, and you'll have to contact CauvoCapital's support for additional details.
Thus, while it may initially appear diverse, the limitations and lack of clarity in the offered services leave much to be desired.
Trading Platform
CauvoCapital offers various trading terminal options, including a mobile app, a web version, and a desktop platform for PC users.
The terminal's interface is designed to be user-friendly, even for beginners who are just starting to explore trading. The design is simple and pleasant, with options to customize chart displays in the settings. The terminal performs reasonably fast, providing real-time quotes without noticeable delays. It also features one-click trading. For technical and chart analysis, the platform provides relevant indicators.
CauvoCapital has organized asset sorting for easy navigation and search convenience. However, it's important to note that despite these seemingly positive aspects, there might be hidden issues with this broker, as evidenced by numerous user complaints and negative reviews.
CauvoCapital — Deposit and Withdrawal of Funds
In the footer of the official website, you can spot the Visa and Mastercard logos, suggesting that you can fund your account using these methods. However, it's unclear whether these are the only available deposit options, as we cannot verify this in the user dashboard. If these are indeed the sole options, it's notably limited for a broker.
Verification
CauvoCapital does support account verification, which is a standard procedure in the industry. During the verification process, traders are typically required to submit various documents to confirm their identity. This may include providing a copy of their identification, proof of address, and possibly some financial documents, depending on the broker's specific requirements. Once these documents are submitted and verified by the CauvoCapital's compliance team, the trader's account is usually approved for full access to all features and services offered by the platform.
Additional Options
CauvoCapital offers an extensive range of additional services that might initially seem overwhelming. However, it's important to note that this abundance of services often serves as a marketing strategy to attract traders. In reality, not all of these services may provide significant value or benefits to traders, and some of them might be designed more for promotional purposes rather than genuine enhancements to the trading experience. It's crucial to carefully evaluate these additional services to determine their actual relevance and usefulness.
Is CauvoCapital a Scam?
Upon closer examination, the offerings presented by CauvoCapital don't appear to be very credible. We've identified several inconsistencies that raise questions about their legitimacy.
Legal Information and License
The company claims to provide services under a Mauritian license. Interestingly, the license shown on the website is actually in the Mauritius registry. However, this refers to real brokerage services and not the CFD contracts that CauvoCapital kindly offers. In addition, in the explanations for this type of license there are some restrictions that the hero of our review clearly does not follow. For example, it states that the company must accept money into the account in Indian rupees. Or that it must obtain official permission to provide services in the jurisdiction where it intends to work.
Finally, we completely doubted the authenticity of CauvoCapital when we found the website of the company Cauvo Brokerage Mauritus Ltd. This project truly meets all the requirements for a SEC-2.2 Investment Dealer (broker) license. This company also operates exclusively in the jurisdiction of Mauritius. Of course, we cannot say 100% that the hero of our review is simply impersonating another legal entity. However, this is the impression we get.
Cauvocapital.com Domain Info
The story of CauvoCapital's tenure is very interesting. The real company was included in the register back in 2019. However, the domain of this broker appeared only in 2022. What other evidence is needed?
Contacts Review
The company offers many ways to communicate. You can call the phone number or write to support. In addition, you can also use the live chat on the site. Meanwhile, this broker definitely does not have an office.
Pros and Cons
Variety types of accounts.
Short actual working period.
Questionable license.
High minimum deposit.
Few reviews.
Doubtful services.
Frequently Asked Questions (FAQ)
What Does CauvoCapital Offer?
CauvoCapital offers a range of financial services, including CFD trading on various assets such as cryptocurrencies, commodities, Forex, and indices.
How Much Money Should I Invest With CauvoCapital?
The minimum deposit requirement is $500, as per their trading conditions.
Is CauvoCapital Safe?
CauvoCapital's safety is questionable, and it's advised to exercise caution when dealing with the broker. While they claim to be licensed in Mauritius, the license may not cover the specific services they offer, such as CFD trading.