IndoEx, a cryptocurrency exchange, boasts of being the fastest and most secure platform in the industry. However, such claims have become quite repetitive and lack substance. In this review, we will independently assess the validity of these assertions and determine whether th‌is is a legitimate platform or yet another scam.
IndoEx General Information
Website
https://www.indoex.io/
Phone Number
—
Email
support@indoex.io
Address
Pärnu mnt 407a, Central district, Tallinn, Harju county, 10119, Estonia
4 Durham Street, Vauxhall, London, United Kingdom, SE11 5JA, UK
License
—
Minimum Deposit
0.0009 BTC
Assets
Crypto
Leverage
—
Trading Platform
Unknown
Registration and Client Portal Review
IndoEx's official website, although lacking any notable features, presents itself as a typical platform for a cryptocurrency exchange. The site fails to offer much in terms of unique or standout qualities, aside from making unsubstantiated claims of being exceptional. However, one aspect worth mentioning is the convenient display of recently added coins on the homepage, allowing users to stay updated on the latest listings.
Additionally, the website provides easy access to download their trading terminal, with direct links available on the main page.
The registration process on the exchange is fairly standard. Prospective clients are required to provide their login credentials, including a username, password, and email address. Once the registration form is completed, an email verification step is typically implemented. Users receive an email containing a verification link, which they need to click to confirm their email address and activate their account.
After clicking the verification link, users can proceed to log in to their account and gain access to the exchange's personal dashboard. It serves as the central hub for their trading activities and account management.
The personal dashboard on the exchange is seamlessly integrated with the trading terminal, providing users with a comprehensive trading experience. Within the personal dashboard, users can access a range of standard functions and features to facilitate their trading activities. Some of the common functions available in the personal dashboard include. Users can view an overview of their account balance, portfolio holdings, and transaction history.
IndoEx Trading Conditions
For a truly fast and secure exchange, it is essential to have excellent trading conditions. Let's now acquaint ourselves with the trading conditions offered by this platform.
Account Types Review
Like some other exchanges, IndoEx does not offer different account types. You can start trading with a minimum of 0.001 of any coin, as stated in their FAQ section. However, it's important to note that only the spot market is available on this platform. There are no other trading options such as margin trading or futures trading.
One convenient feature of this platform is the ability to easily access information on top gainers, which are pairs that exhibit the highest volatility, as well as newly added coins.
Trading Platform
IndoEx provides a web trader platform for trading directly through their website. The web trader offers a range of standard features to facilitate your trading experience.
Real-time Market Data. The web trader provides up-to-date and accurate market data, including live price quotes, order books, and trading charts. You can monitor the latest market trends and make informed trading decisions.
Order Placement. With the web trader, you can easily place various types of orders, such as market orders, limit orders, and stop orders. This allows you to execute trades at your desired price levels or take advantage of specific market conditions.
Portfolio Management. The platform enables you to manage your portfolio efficiently. You can view your open positions, track your trading history, and monitor your account balance.
Users also have the option to download the IndoEx mobile app from official app stores like Google Play Store and Apple App Store. The mobile app allows you to access the exchange and trade cryptocurrencies conveniently from your smartphone or tablet.
However, it's important to note that the app has received mixed reviews from users. While some users may find it useful and functional, others have expressed concerns or reported issues with its performance, user interface, or stability.
IndoEx — Deposit and Withdrawal of Funds
At IndoEx, you can indeed start trading with as little as 0.001 of a cryptocurrency. However, it's important to note that the minimum deposit requirement varies depending on the specific cryptocurrency. For example, if you're depositing in Bitcoin, you would need approximately 0.0009 BTC, while for Ethereum, the minimum deposit would be around 0.015 ETH. As of today, the minimum deposit requirement on the exchange amounts to approximately 30 US dollars.
It's worth mentioning that ‌withdrawal limits are slightly higher, typically double the amount of the minimum deposit. Both deposits and withdrawals can only be made in cryptocurrency, and fiat currency options are not available.
Verification
IndoEx requires its customers to undergo a verification process as part of their account registration. To complete the verification, users are asked to provide a document that verifies their identity. However, it's unclear whether IndoEx verifies the user's address, as this information is not specified in the available documentation.
One aspect that IndoEx openly declares is their monitoring of user transactions. This indicates that the company actively tracks and monitors the transactions conducted by its users, likely as part of their efforts to ensure compliance with regulatory requirements and prevent illicit activities.
Additional Options
IndoEx offers additional services such as a launchpad and airdrops. These services are commonly found on similar platforms in the industry. Evaluating the potential of the tokens offered and listed on IndoEx is a subjective matter, and it's difficult to determine their prospects in advance.
It's worth noting that IndoEx does not appear to provide any other notable additional options beyond the launchpad and airdrops. Users seeking a wider range of supplementary features or services may need to explore alternative platforms or exchanges.
Is IndoEx a Scam?
Now, let's delve into the veracity of IndoEx's claims of being the safest exchange.
Legal Information and License
The company asserts that it is a decentralized exchange with headquarters in Estonia and England. How is that, you may ask? Well, here we encounter immediate nonsense. Typically, decentralized exchanges do not register as legal entities in any country. By the way, the official names of the managing companies are also not listed on the company's website. We independently found a counterpart named Indoex in the registry of England. However, as of today, it has not filed any financial statements and has received a warning. If this continues, the company may be dissolved. However, it is possible that this is an entirely different IndoEx entity altogether.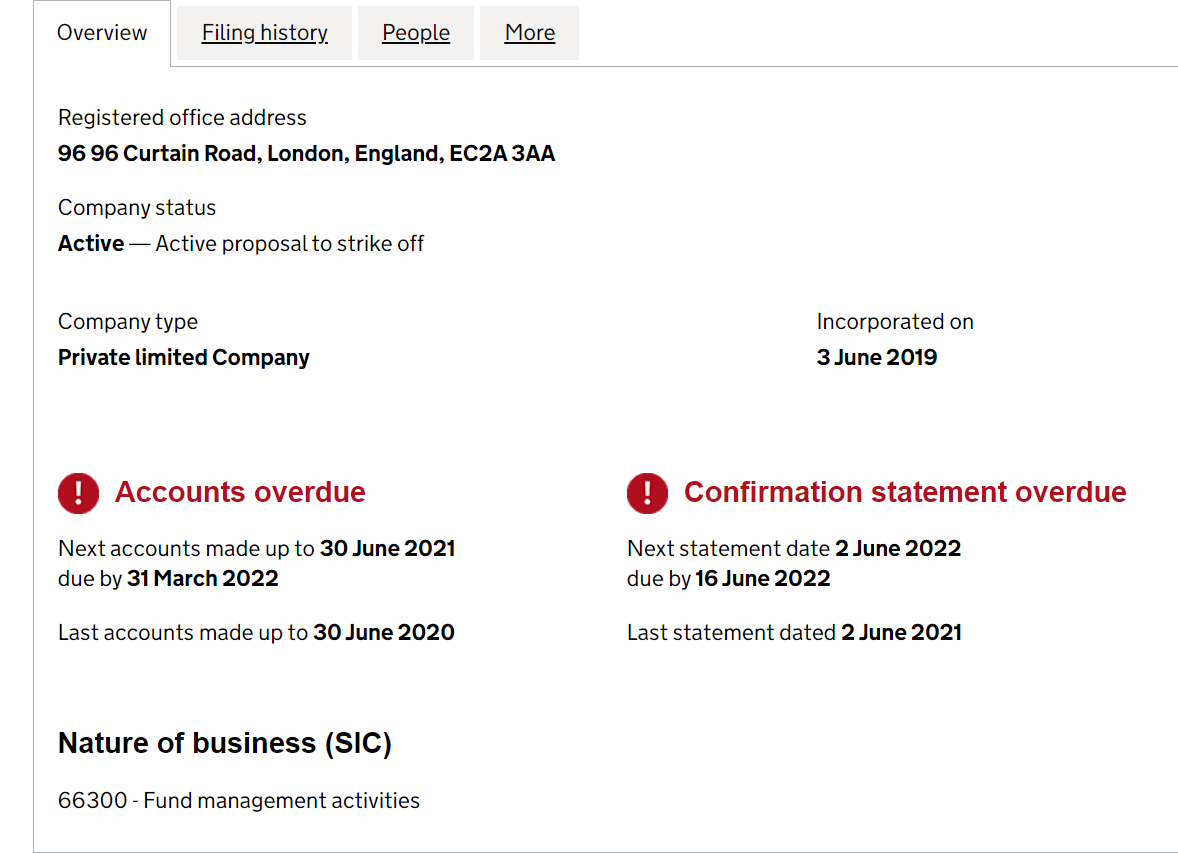 Indoex.io Domain Info
According to the Whois service, the domain was registered in 2018. The exchange was launched in 2019. In principle, this indicates a decent duration of operation, if not for a few drawbacks that we will also mention.
Contacts Review
IndoEx provides contact options through email and a feedback form. Office addresses can be found on external websites, such as CoinMarketCap. However, we cannot guarantee that these addresses currently serve as the actual headquarters of the company.
More Details
The biggest issue we have discovered regarding IndoEx relates to its actual operational status. Many users have reported that the exchange was indeed functional and striving for success during its initial two to three years. However, after that period, it seemingly vanished from public attention. Review websites and traders alike stopped providing feedback, indicating a significant decline in its active operations. Even worse, some claim that IndoEx continues to function solely as a platform to accept deposits, without allowing users to engage in full-fledged trading. This implies that once you deposit funds, you may face difficulties accessing and utilizing your account, as IndoEx might misappropriate your deposit. While we cannot verify the accuracy of these claims, the sheer quantity of such reports raises legitimate concerns.
Pros and Cons
Unclear legal status.
High commissions.
Low ratings of the trading platform.
Negative reviews.
Few additional services.
Frequently Asked Questions (FAQ)
What Does IndoEx Offer?
IndoEx offers a wide range of services, including various cryptocurrencies for trading.
How Much Money Should I Invest With IndoEx?
The amount of money you should invest depends on your individual financial situation, risk tolerance, and trading goals. According to the trading conditions stated on their website, they may vary depending on the cryptocurrency.
Is IndoEx Safe?
IndoEx claims to have implemented security measures to protect user accounts and funds. They may use encryption protocols and other security features to safeguard their platform. However, we strongly recommend conducting thorough research and due diligence before using any exchange. Check for user reviews, security protocols, and any regulatory compliance to assess the overall safety and reliability of the platform.