The broker's name, Market Haven, implies that this outstanding company provides traders with exceptionally appealing trading opportunities. We aim to support this claim with factual information and reviews from clients found online.
Market Haven General Information
| | |
| --- | --- |
| Website | https://markethaven.com/ |
| Phone Number | +441277282822 |
| Email | legal@markethaven.email, support@markethaven.email |
| Minimum Deposit | $250 |
| Assets | Forex, CFDs |
| Leverage | Up to 1:300 |
| Trading Platform | Original WebTrader |
Registration and Client Portal Review
Market Haven's official website fully lives up to its grand name. It offers some interesting features. When you explore the main menu, you'll notice the "Investments Portfolio" section, which provides access to the trading platform without requiring authentication. Additionally, the "Brokerage" link, typically associated with broker services and rates, offers valuable insights into the company and its contact details.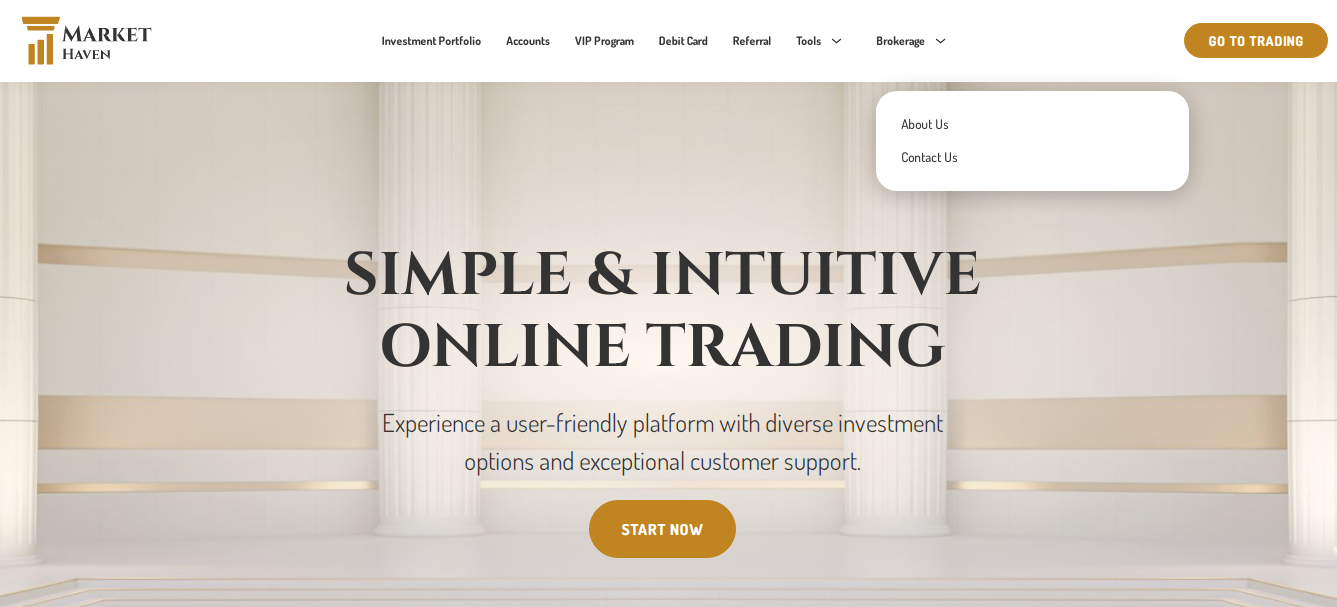 It's worth noting that the web development for Market Haven may have been handled by individuals intimately familiar with the intricacies of trading and financial markets. This is evident in the presence of certain essential information on the homepage, and some intriguing possibilities.
Getting started with Market Haven is a breeze. Their registration process is user-friendly, requiring just a few essential details like your last name, first name, country of residence, and contact information. You'll also need to confirm your agreement with their Terms & Conditions, assert your non-residency and lack of tax obligations in the United States.
Once you've completed these steps, your client's workspace opens up. Upon entry, you'll find yourself in the trading terminal, which provides quick access to your user profile. Your profile offers options for personal information and security settings editing, cryptocurrency wallet details input, and account funding.
Market Haven Trading Conditions
Traders at Market Haven can choose trading conditions that best suit their level of experience and deposit size. The broker itself places a significant emphasis on the volume of informational services, which expands as the account balance grows.
Account Types
For traders with varying levels of experience and deposit sizes, the broker has prepared 6 types of accounts:
Litecoin.
Ethereum.
Bitcoin.
Pro Bitcoin.
VIP Bitcoin.
Rockefeller.
Market Haven's creative approach to naming, blending cryptocurrencies with the moniker of a billionaire who has expressed skepticism about their use, certainly adds an interesting twist to their offerings.
Unlike many brokers that decrease leverage as your deposit size grows, Market Haven takes an unconventional approach by increasing it. For instance, the Litecoin account offers a leverage of 1:100, Ethereum boasts 1:200, and Pro Bitcoin offers a generous 1:300 leverage.
As your account level increases, you'll unlock an array of analytical materials. For instance, Pro Bitcoin account holders gain access to a professional dictionary, an economic calendar, and a market news feed. These perks typically become available with a $50,000 balance.
Trading Platform
Market Haven's proprietary trading platform is aesthetically appealing, and wins in terms of functionality. It's important to be aware of some of its functions, which could potentially impact your trading experience:
The trading platform boasts a user-friendly interface, making it accessible even to traders new to the financial markets. The platform provides traders with a variety of charting tools and technical indicators. These features can be invaluable for conducting in-depth technical analysis and making informed trading decisions.
The company places a strong emphasis on risk management. Traders can set stop-loss and take-profit orders to manage their positions effectively, helping to protect their capital.
The platform offers a wide range of assets, including cryptocurrencies, forex pairs, commodities, and more.
Market Haven — Deposit and Withdrawal of Funds
Market Haven's website states that funding and withdrawals can be done through various methods:
Card-to-card transfers.
Bank transfers.
Electronic wallet transfers.
Additionally, it's worth noting that Market Haven allows funding and withdrawals using cryptocurrencies, adding another layer of flexibility for its users.
Verification
The broker is committed to ensuring compliance with Know Your Customer (KYC) and Anti-Money Laundering (AML) regulations, which is why they require user verification. After the initial registration, users are typically asked to submit certain identification documents for verification. This usually includes a government-issued ID (such as a passport or driver's license) and proof of address (like a utility bill or bank statement).
Once the documents are submitted, the Market Haven team reviews them to ensure they meet the KYC and AML requirements. This step may take some time, as the broker needs to confirm the authenticity of the provided documents.
Additional Options
Like most brokers, this one offers some additional services. First and foremost, this includes informational support throughout the trading process. Traders are offered:
Market analysis, frequency depending on the deposit size.
Education for "esteemed" clients (with an account of no less than Bitcoin).
Development of trading strategies, and more.
The list of additional options also includes a referral program. Here, it's simple – invite friends and receive 10% of the amount they deposit. The amount of additional earnings is capped at $25,000, and the referred friend's minimum deposit must be at least $1,000.
Is Market Haven a Scam?
The broker operates with transparency and compliance with European regulatory norms, ensuring the safety of clients' funds and offering a secure trading environment.
Legal Information and License
The broker maintains an office in the United Kingdom, demonstrating its commitment to adhering to regulatory standards. It takes measures to safeguard clients' funds, following established protocols for fund protection. This includes the segregation of client funds from the broker's operational accounts.
The company operates in accordance with European regulatory standards. The company adheres to Know Your Customer (KYC) and Anti-Money Laundering (AML) regulations, enhancing the security of the platform.
Markethaven.com Domain Info
Our investigation extended to the website's domain history, revealing a surprising fact: the website's domain has been consistently operational since the year 2008. This extensive period of uninterrupted operation indicates not only the broker's longstanding presence in the market but also a significant track record. Such a substantial history can be seen as a testament to the broker's stability and reliability in the industry over the years.
Contacts Review
The broker offers a variety of communication channels for users to get in touch with them. These include phone numbers, email, and other contact methods, providing traders with multiple options for reaching out and seeking assistance. This multi-faceted approach enhances accessibility and customer support, making it convenient for users to connect with the broker when needed.
Pros and Cons
Diverse account types.
Variety of instruments.
Transparent account conditions.
Multiple communication channels.
Regulatory compliance.
Frequently Asked Questions (FAQ)
What Does Market Haven Offer?
It primarily offers trading services in various financial instruments, with a focus on Forex and CFDs.
How Much Money Should I Invest With Market Haven?
According to its trading conditions, the minimum deposit required to start trading is $250.
Is Market Haven Safe?
Yes, it has security measures in place.