In this review, we're delving into T4Trade, a broker that claims to elevate your trading game to new heights. However, before you take the leap, let's dig deeper and unravel the mysteries behind this platform. In a world filled with scams and dubious practices, it's crucial to do your own research. In this case, we will help you.
T4Trade General Information
| | |
| --- | --- |
| Website | https://www.t4trade.com/ |
| Phone Number | — |
| Email | support@t4trade.com |
| Address | F20, 1st Floor, Eden Plaza, Eden Island, Seychelles |
| License | FSA Seychelles |
| Minimum Deposit | — |
| Assets | Fx, CFDs |
| Leverage | Up to 1:1000 |
| Trading Platform | MT4, T4Trade platform |
Registration and Client Portal Review
The official website of T4Trade can be described as simple and unremarkable. The design lacks vibrancy and fails to leave a lasting impression. However, despite its uninspiring aesthetics, the website manages to provide all the essential information you would expect. It is worth noting that the website is available in multiple languages, catering to a broader audience.
Navigation is relatively easy, thanks to a user-friendly menu that allows visitors to explore different sections effortlessly. Additionally, the presence of a disclaimer in the footer showcases a level of transparency, emphasizing the importance of understanding the risks associated with trading.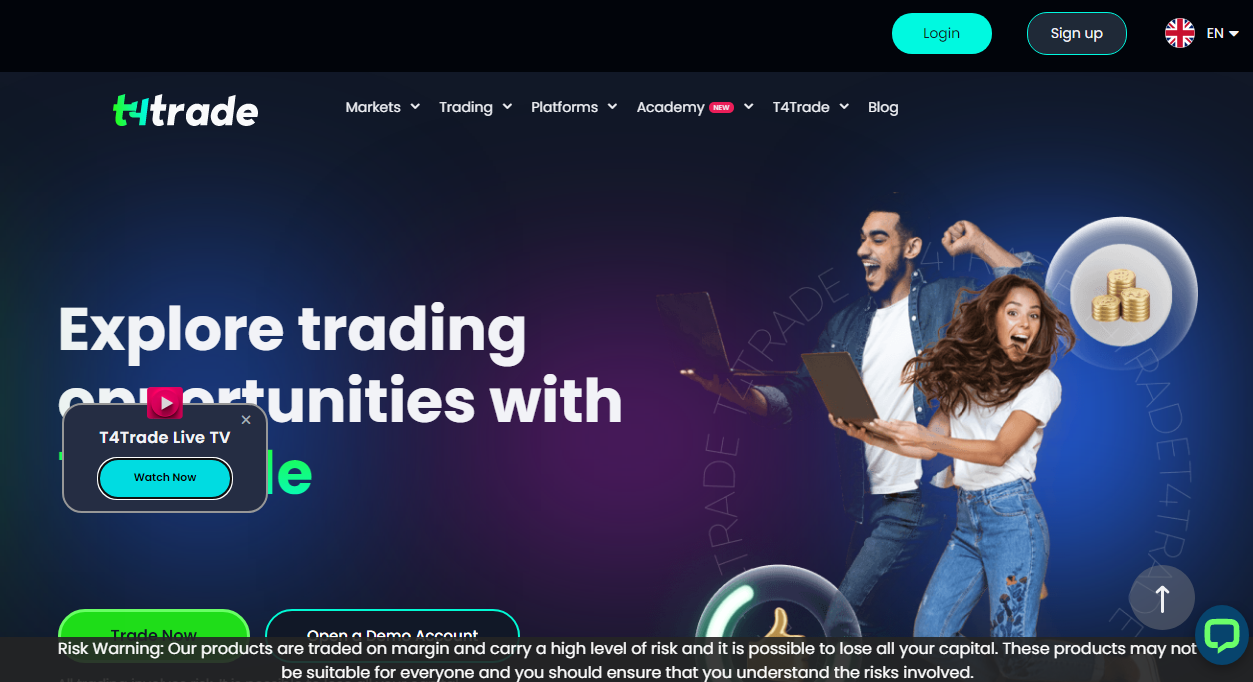 The registration process on the broker's website is relatively straightforward. You need to provide your personal info and contacts. However, it is worth mentioning that the broker does not verify the email address or phone number during the registration, which raises concerns about the security and reliability of the platform.
Once registered, users gain access to the Client Portal, which can be described as a standard and unremarkable interface. While it may lack innovation or standout features, it does provide all the necessary functions for managing one's trading account. Users can view their balances, make deposits and withdrawals, access trading tools and resources, and monitor their trading activity.
T4Trade Trading Conditions
Now, let's take a look at the trading offerings provided by the broker. Perhaps T4Trade will indeed be able to raise the bar.
Account Types Review
Firstly, the broker offers a cent account, which appears to serve as a substitute for a demo account. In addition to that, there are three classic account types: Standard, Premium, and Privileged. Unfortunately, the minimum deposit requirement is not specified for any of these accounts. There are no commissions associated with any of the account types.
All account types offer leverage of up to 1:1000 and support three base currencies: US dollar, euro, and pound sterling. Visually, the main distinguishing factor lies in the spread sizes. The spreads start at 1.8, 1.6, and 1.1 pips, depending on the account type. Furthermore, T4Trade also provides an Islamic account option that is free from swap charges.
Trading Platform
The broker offers both the MT4 (MetaTrader 4) and T4Trade trading platforms. MT4 is a widely recognized and widely used platform in the industry. It has gained popularity among traders due to its robust features, user-friendly interface, and extensive range of technical analysis tools. Traders can access a variety of indicators, expert advisors, and customizable charts, making it suitable for both beginner and experienced traders.
On the other hand, T4Trade's proprietary platform may not be as popular or well-known as the established MetaTrader platforms. While the specifics of the platform are not mentioned, its lack of prominence suggests that it may not offer the same level of features, community support, and third-party integrations as the widely recognized MetaTrader platforms.
T4Trade — Deposit and Withdrawal of Funds
The broker provides a range of options for depositing funds. Traders can choose from various methods, including credit cards, bank transfers, cryptocurrencies, and electronic payment systems. This diverse selection allows for flexibility and convenience when funding the trading account. It's worth noting that the broker claims not to charge any deposit fees, which can be appealing to traders.
However, commissions regarding withdrawals are not explicitly mentioned. It is essential for traders to carefully review the broker's terms and conditions or contact their customer support to understand the withdrawal process and associated fees (if any).
Verification
Before initiating a withdrawal, it is important to note that T4Trade requires mandatory verification. Ideally, it is recommended to complete the verification process before making any deposits.
The verification process typically involves submitting certain documents to confirm the trader's identity and address. These documents may include a valid government-issued ID, such as a passport or driver's license, proof of residence like utility bills or bank statements, and potentially additional documents depending on the broker's requirements.
Additional Options
T4Trade offers an extensive bonus program for its clients. Traders have the opportunity to benefit from various types of bonuses, including a 20% deposit bonus, a 40% take off bonus, and a 100% supercharger bonus.
In addition to the bonus program, T4Trade provides a range of educational materials to support traders in their learning journey. These educational resources can include tutorials, webinars, trading guides, and market analysis.
Furthermore, the broker offers Live TV, which is a feature that provides real-time market updates, news, and analysis.
Is T4Trade a Scam?
Aside from the trading conditions, it is essential to delve into some crucial aspects to determine whether choosing T4Trade for collaboration is worthwhile.
Legal Information and License
In the website footer, it is indicated that the broker's managing company is Tradeco Limited, registered in the Seychelles. It is important to highlight the potential drawbacks of this offshore jurisdiction.
Operating from an offshore jurisdiction like the Seychelles can raise concerns due to the perceived lack of stringent regulatory oversight and investor protection compared to reputable European regulators. While Tradeco Limited holds a license from the Seychelles regulator, it is important to note that the regulatory framework in the Seychelles may be more lenient, allowing for higher leverage, bonuses, and other features.
T4trade.com Domain Info
We conducted a domain registration check and found that T4Trade acquired its domain only after 2018, despite the domain itself being relatively old. Unfortunately, the registration date of the company is not specified in the public registry, making it difficult to determine its establishment year.
Contacts Review
In terms of communication, T4Trade offers email support, live chat, and a contact form. However, it is worth mentioning that the broker does not have a physical office. Only a legal address is provided, which may limit the ability to engage in direct face-to-face interactions or visit a physical location for assistance or resolution of issues.
Pros and Cons
Offshore registration.
High leverage.
Trading conditions are not described in detail.
No real office.
Frequently Asked Questions (FAQ)
What Does T4Trade Offer?
T4Trade offers a range of trading services and features, including various account types, and access to multiple financial markets.
How Much Money Should I Invest With T4Trade?
The minimum deposit requirement for investing with T4Trade may vary according to the trading conditions and account types. However, it is not specified.
Is T4Trade Safe?
Assessing the safety of T4Trade requires careful consideration. While the broker is regulated by the Seychelles Financial Services Authority, it is important to note that offshore regulatory frameworks may differ in terms of investor protection compared to established and renowned regulatory bodies.