Enter the shadowy world of Squire's Finance Limited, a broker that claims to cater to both retail and institutional investors. However, behind their enticing facade lies a potential scam. Read our review, and you'll discover a chorus of disgruntled voices recounting tales of shattered dreams and lost investments.
Squire's Finance Limited General Information
| | |
| --- | --- |
| Website | https://www.squiresfinanceltd.com/ |
| Phone Number | +442080977710 |
| Email | support@squiresfinancelimited.net |
| Address | 20 Farringdon St, London EC4A 4BL |
| License | — |
| Minimum Deposit | €250 |
| Assets | CFDs |
| Leverage | Up to 1:1000 |
| Trading Platform | WebTrader |
Registration and Client Portal Review
The most notable aspect of Squire's Finance Limited's website is its color scheme. The creators have curated a pleasant palette that catches the eye. However, beyond this visual appeal, the website falls into typical templates. Here, you will encounter numerous empty claims of being crafted by seasoned traders and promising to serve retail traders with the same level of service as institutional investors. Additionally, you will find the obligatory disclaimer and a sprinkle of legal information in the footer.
The registration process at Squire's Finance Limited follows a standard procedure, albeit with a significant drawback. One of the concerning aspects is that the broker does not verify the provided information, such as email or phone number. This lack of verification raises concerns about the security and legitimacy of the platform. Without proper authentication measures in place, it becomes easier for potential scammers to put users' personal and financial information at risk.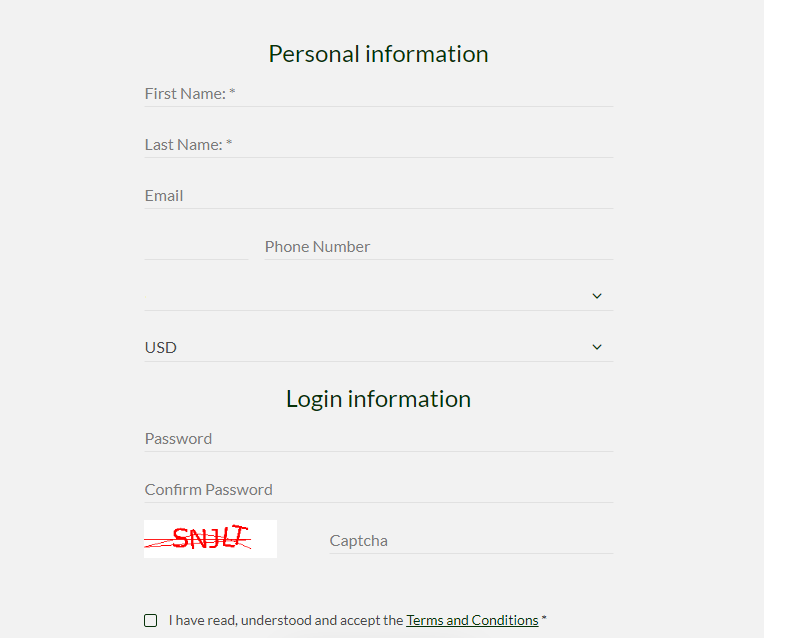 Once registered, traders are directed to the typical Client Portal at Squire's Finance Limited, which, unfortunately, fails to meet expectations. It follows a generic template that lacks innovation and user-friendly features. Navigating through the portal feels like a tedious and uninspiring task, with limited options for customization or personalization.
Squire's Finance Limited Trading Conditions
We are already very curious to explore the exclusive trading conditions offered to private investors by Squire's Finance Limited.
Account Types Review
The broker offers a total of five account types, distinguished by their minimum deposit requirements and certain trading conditions, such as leverage. For instance, the Test account requires a minimum deposit of 250 euros and only allows trading in currency pairs. Moving on to the Novice account, which necessitates a deposit of 2,000 euros, traders gain access not only to currency pairs but also to indices. Moreover, the Novice account offers an increased leverage of up to 1:300.
It's interesting to note that the next account, Standard, demands a significantly higher deposit of 50,000 euros, which deviates from standard industry practice. As an additional benefit, traders with a Standard account are granted the ability to trade commodities. The Corporate and VIP accounts require deposits of 150,000 euros, granting access to all available assets and significantly higher leverage ratios of 1:500 and 1:1000, respectively. These are essentially all the advantages offered. It's quite peculiar that the broker has set such inflated minimum deposit requirements for these accounts.
Trading Platform
Squire's Finance Limited falls short in several aspects. The platform lacks essential features, provides a subpar user experience, and offers limited educational resources. Besides, disappointingly, there is no demo account available for users to practice trading. It's important to exercise caution when dealing with this broker, as this terminal has been associated with fraudulent activities in the past.
Squire's Finance Limited — Deposit and Withdrawal of Funds
Squire's Finance Limited offers multiple deposit methods, including credit and debit cards, P2P, cryptocurrencies, and bank transfers. The same methods are available for withdrawals. However, the broker fails to provide information regarding fees and processing times, leaving users uncertain about the associated costs and the timeframe for transaction processing.
Verification
The standard verification process at Squire's Finance Limited involves several steps to ensure compliance and security. The broker may request identification documents, including a valid passport or driver's license, as well as proof of address, such as a utility bill or bank statement. Once the required documents are submitted through the designated channels, the broker's verification team reviews, and verifies the information provided.
Additional Options
Squire's Finance Limited offers a partner program where users can build a network of affiliates or receive CPA (Cost Per Acquisition) rewards. However, the exact reward structure and commission rates are not specified, leaving potential partners in the dark about the earnings they can expect.
Furthermore, the company advertises a 45% bonus on the first deposit. While this may initially seem enticing, it is important to note that such bonuses often come with stringent terms and conditions. These terms may include high trading volume requirements or limitations on withdrawal until certain criteria are met.
Is Squire's Finance Limited a Scam?
We haven't found Squire's Finance Limited to be an appealing broker. While we acknowledge the possibility of bias, our experience has shown that brokers with similar trading conditions often turn out to be ordinary scammers.
Legal Information and License
In the footer of their website, Squire's Finance Limited provides legal information claiming to be a British company. However, we regret to inform you that these scammers have no association with the actual firm. The original Squire's Finance Limited is a small family company that was established back in 1986. If this were a legitimate broker, they would need advertising. However, there are only a couple of recent reviews about this project online. What kind of broker doesn't need clients or advertising?
Furthermore, although Squire's Finance Limited is authorized in the FCA register, it is not a brokerage service. The company is not allowed to hold or control client funds. Instead, they assist users with insurance matters and engage in credit broking.
Squiresfinanceltd.com Domain Info
As mentioned earlier, Squire's Finance Limited claims to have been founded in 1986. However, this date holds no relevance to the actual operations of the broker. According to the Whois service, the website was created on April 24, 2023.
Contacts Review
Squire's Finance Limited offers multiple contact methods, including phone and email. They also provide an address on their website, but rest assured, there won't be any managers awaiting you with open arms. Since the company is fake, they do not have a physical office either.
More Details
The most apparent evidence that Squire's Finance Limited is a scam is the pattern of their projects. This is not the first "broker" from these creators. For instance, in the "Partnership" section, you may even notice that they didn't bother to change the name. In this paragraph, they refer to an old project by these scammers called Medco Finance Limited, which was also a pseudo-English company. The number of their projects is countless. For example, one of their recent projects is Nelson Financial Solutions Limited. You can observe several distinct similarities, such as similar narratives, identical trading platforms, and more.
Pros and Cons
Fake legal data
Lack of license
No official registration
The short period of work
Scam line of pseudo-brokers.
Frequently Asked Questions (FAQ)
What Does Squire's Finance Limited Offer?
Squire's Finance Limited offers you to trade CFD on financial markets.
How Much Money Should I Invest With Squire's Finance Limited?
The minimum deposit according to the broker's trading conditions is 250 euros.
Is Squire's Finance Limited Safe?
No, it's not safe. Squire's Finance Limited is just pretending to be a real company. In fact, it has no rights to provide brokerage services.